Choosing a Career as a Truck Driver
The impact of the coronavirus pandemic on the global economy cannot be understated. Many jobs have been affected, and most employers are switching everyone they can to working from home. Still, specific jobs are crucial to any functioning economy. Transport of goods, even across state lines, is something that will always be required and, thus, hasn't been significantly impacted. Simply put, the transport industry is the backbone of the entire U.S. economy. Even though the market is starting to reopen and slowly recover, many have begun second-guessing their career choices, and the need for job stability is in high demand. If you are thinking about choosing a career as a truck driver, you are in the right place because we will tell you all about it.
The freight industry has seen a steady growth from year to year and is essential to keeping the U.S. functioning. Shipping by truck is a lot less expensive than transporting goods by plane, meaning that trucking isn't going away any time soon. Many companies have also started shipping directly from warehouses to their customers and need drivers to carry out those orders. An increase in demand for transported goods led to truck driving being a stable career choice. Even though there are more truck drivers now than ever before, there is still a need for more drivers. Besides job security, there is also a great deal of flexibility and branching career paths to consider. Many take up positions in training, dispatch, or logistics. If you are choosing a career as a truck driver and want to join our Highway Transport family, don't hesitate to contact us and inquire about job openings.
Freedom
Hearing the call of the open road and making money while traversing the country sounds like a dream to some. There is a special kind of freedom on the open road. You get to take breaks when you need them. Driving through beautiful and continuously changing country scenes, you get to interact with new people daily. An ever-changing routine will keep staleness and boredom away. You get to plan how to get from one point to another, and there are many little things that you can do to make life even easier. If you literally want to be your own boss, you can go a step further and become an owner-operator, letting you be a true free spirit.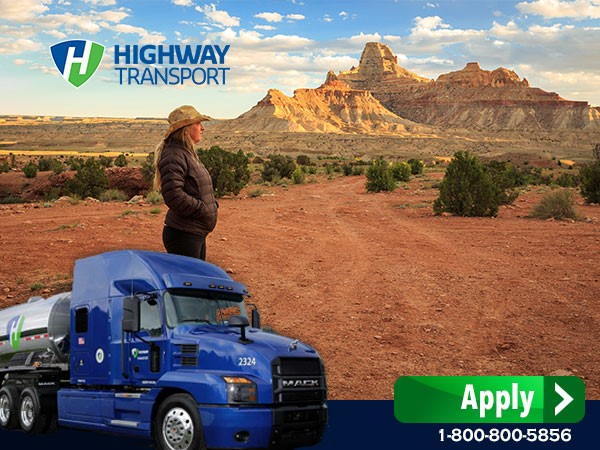 Commercial Driver's License
To be a truck driver, you will need a Commercial Driver's License (also known as a CDL), and most employers can offer training that you can complete in approximately six weeks. You don't need an expensive degree, so you don't need to take out college tuition loans. If you are driving across state lines, you need to be 21, but you can start driving locally at the age of 18. Starting young without the need for an expensive degree can be an excellent springboard for many young people looking for a good income and a great option for people with families who need job stability. To work for a specialized tanker trucking company, like Highway Transport, you need to be over the age of 23. Increasingly, women are becoming truck drivers. Highway Transport recently became associated with Women in Trucking.
Relocate for convenience
Certain cities have a higher demand for truck drivers or are just located close to frequent routes and major hubs. There is also the cost of living to consider, and picking the right place to call home can improve your quality of life by leaps and bounds. If your employer and frequent routes are located close to where you live, it's easy math to realize that you will spend more hours at home weekly. Living on the road is romantic, but so is having a nice place to hang your hat. If you do end up moving, companies like Zippy Shell Louisiana can help you relocate either locally or long-distance.
Remaining healthy

Nowadays, many jobs have people sitting at a desk staring at a computer screen. Working from home has become the norm since the lockdowns started last spring. What we don't hear enough of is talk about physical health and stress management. Every job comes with a certain dose of stress, and if you are choosing a career as a truck driver, there is a lot you can do to reduce stress. Truck drivers have support systems that help them develop good posture while driving; they are also reminded to take breaks and exercise frequently. Maintaining a healthy diet and sleep routine is necessary for your health. Many new truck models come with ample storage space, fridges, and microwaves to help you adhere to a healthy lifestyle. Highway Transport drivers have the option to partner up FOR FREE with a health coach by Rolling Strong.

Qualities employers are looking for
Not all companies are as safe, responsible, and award-winning as Highway Transport.
below: Alen Smailovic (left) is presented a commemorative plaque by driver manager Jeff Womble showcasing the Bulk Transporter in-depth article about Alen's remarkable journey from refugee to professional chemical tanker driver.
When choosing a career as a truck driver, it is also important to consider what employers are looking for in a good driver:
• Working as part of a team – when picking up and delivering goods, you will be representing the company. You will also have dispatchers and other coworkers you frequently interact with.
• Independence and problem solving are needed. There will be many situations on the road when you will need to make decisions, and you will be working unsupervised for long periods of time.
• Being punctual will ensure you are making routes on time. Proper planning and organizational skills go a long way towards meeting all of the deadlines for delivery with ample time to spare.
• Good driving skills and being safe on the road will make you look good to your employers. Driving in an economical way will save you and the company money and time.
• Communication skills and a good attitude will ensure that every delivery leaves a good impression. Both employers and customers will be happy and satisfied.
While there are many benefits to a career in the transport industry, not everyone has what it takes to be married to the wheel. Most drivers describe this type of career as a lifestyle, and many bond over it and consider other drivers a family. If you have recently been laid off or need a career change -choosing a career as a truck driver can be just the thing you need. Consider the points we have brought up in this article and figure out if this job is right for you.